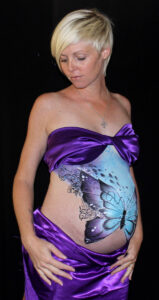 Creating personalised pre-natal art as a special memento of such a beautiful time in your life. I will work with you to create a piece just for you and will then help capture those memories for you or you may like to hire a photographer yourself or take your own photos.
Please check out some of pre-natal art below, but don't let that limit your imagination in any way.  A design will be created especially for you!
Sessions are priced at $190
This includes consult, design work and pre-natal painting.
Testimonials 
"I will always recollect and cherish the day/s I had my pregnancy celebrated with the most beautiful painting on my belly by Ayesha from Spritely Designs. Watching it evolve and come to life was so magical and it's now something I can share with my precious daughter. I wish I'd have known of Ayesha's talent when I was pregnant with my first. It truly is an experience and momento to be treasured. So much so, that Ayesha painted my belly twice." ~ Melanie Hughes
"Thank you for my beautiful belly paint, Ayesha.  It was exactly what I had pictured in my mind and I loved the orchids reminding me of my beautiful grandmother watching over my bub during my pregnancy.  You are so incredibly talented, not all artists have your amazing gift.  I recommend you all the time with so much confidence and gratitude.  The face painting work I've also see you do totally blows me away as well, it's incredible."  Fiona Bevington
"When I found out I was pregnant, I immediately decided that I wanted to have my belly painted for something special and different. Ayesha from Spritely Designs created an amazing piece for me. I wasn't sure exactly what I wanted and somehow she still managed to create the perfect design that was absolutely beautiful. She was very friendly and receptive throughout the entire process and made the experience very special and enjoyable. I will always treasure the photos of my belly art – thank you so much Ayesha!" ~ Courtney Duncan
"I had the pleasure of Ayesha painting my belly when I was pregnant. What an amazingly talented artist. My belly painting was stunning and she was such a delightful person. She made me feel comfortable and relaxed through the whole process and the only problem was that i had to eventually wash her stunning artwork off. Very talented artist." ~ Tanya Smith
"I had my belly painted by Ayesha from Spritely Designs, just over 7 years ago!
It was such a lovely afternoon to sit around with some friends and watch Ayesha create her magic! She made me feel like the afternoon was all about me (such a treat when your a busy mum) We didn't know the sex of the baby so she suggested we use the same theme as I had the nursery set up as. I loved my underwater theme! I love to look back at the pics and remember such a special time. I remember not wanting to have a shower that night as I wanted to keep it on. I have recommended her to so many friends (and strangers) now that my step son is having their first baby a belly paint will be one of our gifts to our future daughter in law." ~ Kahlia Mattiuzzo